Discover BearSaver's Popular "Hid-A-Bag" Receptacles
Posted by Securr Blogger on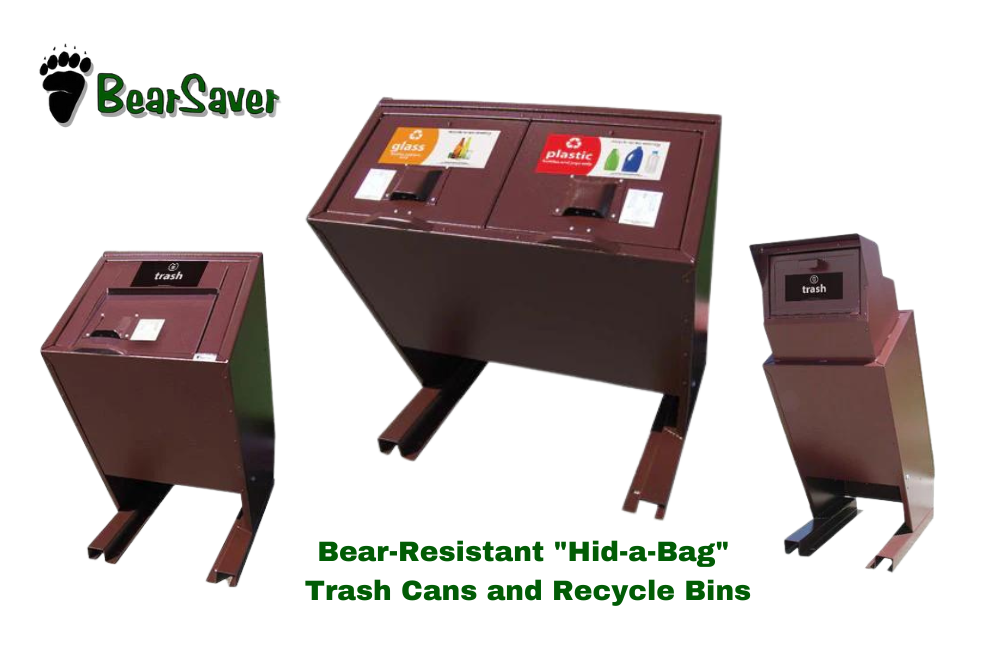 If you're looking for a versatile, attractive, and easy-to-use bear-resistant receptacle, then look no further than our line of Hid-A-Bag trash cans and recycle bins! Manufactured by BearSaver, the North American leader in bear-resistant containers, the Hid-A-Bag series is available in various sizes and configurations. This well-known and widely-used line of products has a long track record of exceptional durability. Let's take a closer look at why the Hid-A-Bag line continues to be one of our most popular products.
Attractive and easy to use
One of the reasons why the Hid-A-Bag line of products is so popular is because they are both attractive and easy to use. The sixty-degree angled housing is eye-catching yet unobtrusive, blending in nicely with the surrounding environment. It is serviced by opening the back where you will find a tilt-out bag rack. This rack provides a rigid frame from which plastic bags are suspended. All Hid-A-Bag models come with easy-to-use side-opening service doors. Even when bags are full and heavy, they can easily be removed laterally which helps to avoid back injuries.
Variety of options are available
The Hid-A-Bag series is a robust line of products that offers a large variety of options. These receptacles come in four sizes (32-, 64-, 70-, and 140-gallon) with trash, recycle, or trash/recycle combination options. They can be ordered in both single and double configurations, and some models are also ADA compliant. 
Keep all the critters out
When you live in bear country, you need to provide bear-resistant trash cans and receptacles to help keep both people and bears safe. All Hid-A-Bag receptacles are formally tested and certified bear-resistant. Not only that, but BearSaver receptacles also keep other dangerous critters out. Rodents can pose a serious risk to health and safety, and we're pleased to report that our Hid-A-Bag receptacles keep out all animals large and small including rodents.
Made to last
BearSaver is dedicated to designing and manufacturing rugged and high-quality animal-proof trash enclosures that are designed for use in a wide range of outdoor settings. They can stand up to harsh environmental conditions, vandalism, and even large hungry animals like grizzly bears and other bears. All handles, striker plates, and hardware are zinc-coated for corrosion resistance and the stainless steel door hinges are made with a heavy-duty piano hinge material. The housing and doors are made from corrosion-resistant steel and are finished using a textured powder-coat process. This finish is resistant to any harsh environmental conditions including humidity, salt spray, fog, ultraviolet rays, abrasion, and chemicals. 
Customization is easy
Because we design and manufacture all our products in our factory in Ontario, California, we can customize any of our receptacles to suit your needs. Standard powder-coat colors for the Hid-A-Bag line are Forest Brown and Fir Green, but other optional colors are available. Contact us today to discuss your specific needs so that we can create a receptacle that's just right for you!
Contact BearSaver today
To learn more about BearSaver's popular Hid-A-Bag receptacles, contact us at 800-851-3887 or sales@bearsaver.com. Our Customer Service Representatives are standing by to answer all your questions so that you can make a decision with confidence. Contact us today!
---
Share this post
---
---