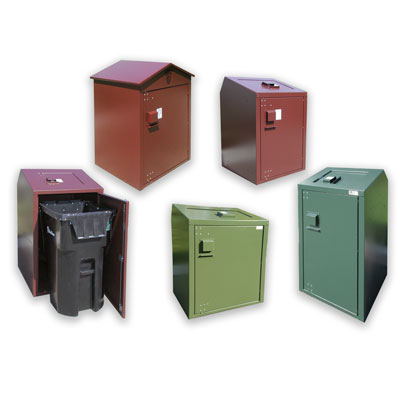 Bear-Resistant "Bearier™ Residential/Municipal Can Enclosures
---
Bear-Resistant "Bearier™ Residential/Municipal Can Enclosures
Bearier™ Bear Proof Residential Enclosures and Receptacles
Our line of Bearier™ Residential Can Enclosures have been in use for many years. The RCE Series enclosures are manufactured using the same materials and finishes as our line of commercial trash enclosures, which are used widely throughout the U.S. and Canada.
---
Our proven, field tested outdoor enclosures will provide years of trouble-free service in all weather conditions. If you are looking to keep hungry bears out of your trash, BearSaver has the solution you need.
---
BearSaver Bear Proof Trash Enclosures
BearSaver has an extensive line of rugged, high quality animal-proof trash enclosures designed for use in a wide range of outdoor settings. They are resistant to harsh environmental conditions, vandalism, rodents and even large hungry animals. All of our receptacles offer the convenience of an animal-proof top loading door and a separate service door that will save your back by not forcing you to lift the contents up and out of the container.
MECHANICAL SPECIFICATIONS
All hinges, handles, striker plates and hardware are zinc coated for corrosion resistance. The door hinges are heavy-duty piano hinge material using stainless steel pins. The housing and doors are made from heavy gauge, corrosion-resistant steel and are finished using a textured powder coat process. The finish is resistant to humidity, salt spray, fog, ultraviolet rays, abrasion and chemicals. Locking pocket latches are optional.