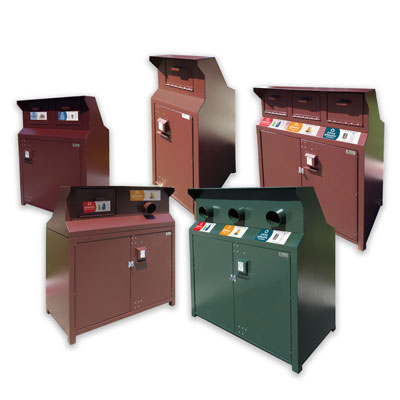 Bear-Resistant "CE Series" Trash Cans and Recycle Bins
---
Bear-Resistant "CE Series" Trash Cans and Recycle Bins
CE SERIES
The CE Series enclosures are heavy-duty, ADA approved products that are a good choice where accessibility compliance is key. The top loading pull-down chutes make these models operable with even a closed fist. They are user friendly, maintenance friendly and made to last years in any environment.
---
BearSaver Bear Proof Trash and Recycling Enclosures
BearSaver has an extensive line of rugged, high quality animal-proof trash/recycling enclosures designed for use in a wide range of outdoor settings. They are resistant to harsh environmental conditions, vandalism, rodents and even large hungry animals. All of our receptacles offer the convenience of an animal-proof top loading door and a separate service door that will save your back by not forcing you to lift the contents up and out of the container.
MECHANICAL SPECIFICATIONS
All hinges, handles, striker plates and hardware are zinc coated for corrosion resistance. The door hinges are heavy-duty piano hinge material using stainless steel pins. The housing and doors are made from heavy gauge, corrosion-resistant steel and are finished using a textured powder coat process. The finish is resistant to humidity, salt spray, fog, ultraviolet rays, abrasion and chemicals. 
The CE132 and CE232 and it's chute variations have a PRODUCT CONFIGURATION TRADEMARK, registration no. 3933298. This product family is so unique and so widely used that's it's design is protected and can not be copied in any way.