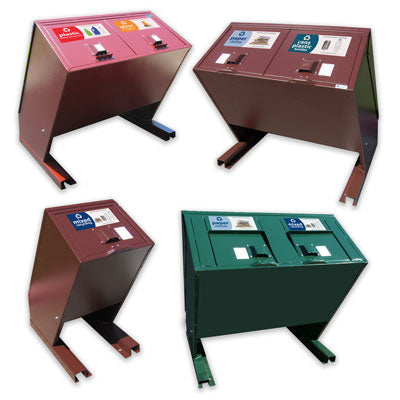 Bear-Resistant "Hid-A-Bag" Trash Cans and Recycle Bins
---
Bear-Resistant "Hid-A-Bag" Trash Cans and Recycle Bins
HID-A-BAG
The always popular Hid-A-Bag models offered by BearSaver are versatile, attractive and easy to use. The sixty-degree angled housing is eye-catching but unobtrusive. Serviced by opening the back, the tilt-out bag rack provides a rigid frame from which plastic bags are suspended. When the bag is full and heavy, it can be removed laterally to help avoid back injuries.
All HID-A-BAG models now have easy-to-use side-opening service doors.
BearSaver Bear Proof Trash and Recycling Enclosures
BearSaver has an extensive line of rugged, high quality animal-proof trash/recycling enclosures designed for use in a wide range of outdoor settings. They are resistant to harsh environmental conditions, vandalism, rodents and even large hungry animals. All of our receptacles offer the convenience of an animal-proof top loading door and a separate service door that will save your back by not forcing you to lift the contents up and out of the container.
MECHANICAL SPECIFICATIONS
All hinges, handles, striker plates and hardware are zinc coated for corrosion resistance. The door hinges are heavy-duty piano hinge material using stainless steel pins. The housing and doors are made from heavy gauge, corrosion-resistant steel and are finished using a textured powder coat process. The finish is resistant to humidity, salt spray, fog, ultraviolet rays, abrasion and chemicals.