BearSaver Makes Recycling Easy with Standardized Recycling Labels
Posted by Securr Blogger on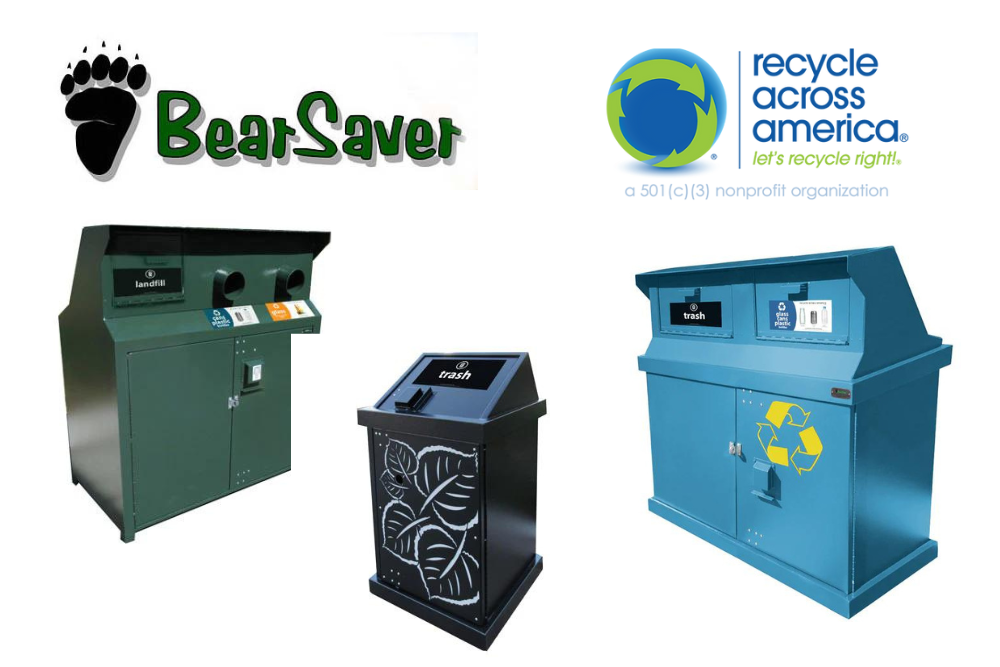 BearSaver is pleased to announce that we've made recycling even easier! We've partnered with Recycle Across America and are now offering standardized recycling labels on our entire line of recycling bins. The New York Times has called society-wide standardized recycling labels "...one of the most important environmental fixes taking root today" and we agree. Let's take a closer look at how BearSaver's recycling bins can keep bears out and also enhance your recycling collection system.
Recycling made easy with Recycle Across America
The nonprofit organization Recycle Across America has become the leader in bringing society-wide standardized labeling systems for recycling bins to the United States. Their mission is to provide simple and easy-to-understand labels for recycling bins that allow anyone in the country to correctly recycle items no matter where they are. These standardized labels can help to increase recycling levels by 50 to 100 percent. They also help to dramatically reduce contamination by keeping garbage out of recycling bins. Providing standardized labels for use across the country helps to increase the financial viability of recycling everywhere for everybody.
We're proud to help keep our parks clean
BearSaver is the preferred supplier of recycling receptacles to many of our National Parks. This allows us to see firsthand how standardized labels have made an impact in their efforts to become zero-waste. Our partnership with Recycle Across America allows us to offer standardized labels not just to our friends in the National Parks, but on all of our products. This clear and concise messaging is something we know that all of our clients will appreciate. There is now a standardized label available for nearly every type of sorting need including:
Mixed recycling

Trash

Landfill

Cans - aluminum, steel, and tin

Glass - bottles, and jars only

Plastic - bottles, and jugs only

Paper, cans, and plastic bottles

Cans and plastic bottles

Glass, cans, and plastic bottles

Paper - clean and dry, no food contact
BearSaver offers many varieties of multistream bear-resistant recycling bins
BearSaver is the world's leading manufacturer of bear-resistant trash cans, recycling bins, and enclosures. We've also made it easier for you to collect recyclable materials by offering a variety of multistream recycling bins. Our products are made in the USA right here in our factory in Ontario, California. Our receptacles are manufactured with heavy-gauge, corrosion-resistant steel that won't rust in any environment. They are designed for use in a wide range of outdoor settings and are resistant to vandalism, rodents, and large hungry animals. Every receptacle offers the convenience of an animal-proof top-loading door and a separate service door. This helps to prevent back injuries by not forcing you to lift the contents of the container up and out.
Contact BearSaver today
Would you like to learn more about how you can make recycling easier with BearSaver's line of bear-resistant recycling bins? Then contact us at 800-851-3887 or sales@bearsaver.com. Our customer service representatives are eager to assist you and are standing by to answer all your questions. Contact us today!
---
Share this post
---
---