One-of-a-kind Bear Resistant Cart Garages from BearSaver
Posted by Ryan Rockwood on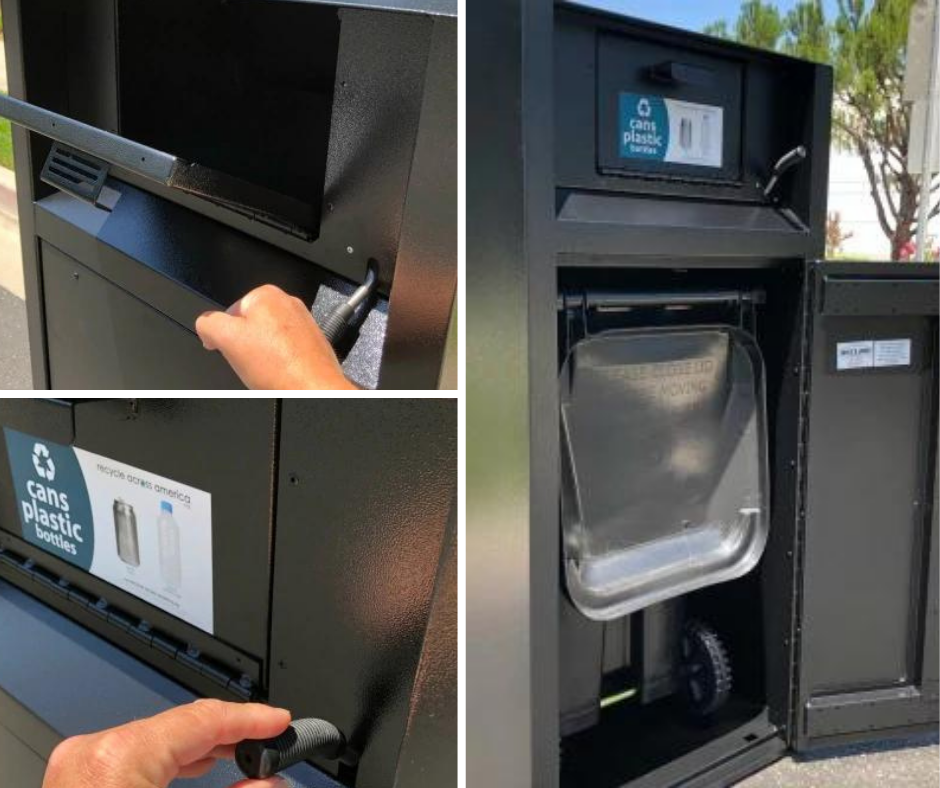 Here at BearSaver, we have the ability to offer innovative solutions for your waste management problems where bears are involved. That's why we've designed our line of Bear Resistant Cart Garages. One-of-a-kind in the industry, BearSaver Cart Garages were created to work with automated collection systems on city streets, parks, buildings, and other areas where animals may feed on garbage. All BearSaver cart garages work with poly carts and can be used for either trash or recycling and customized to your needs. Let's take a closer look at each cart garage available.
BearSaver Bearier cart enclosure for residential use
For those looking for a cart enclosure for residential use, then the BearSaver Bearier Residential Cart Enclosure RCE195F fits the bill. This cart garage holds one standard 65- or 95-gallon poly cart, which is included with the garage. The enclosure comes with a top lid that flips open for easy loading and a large door for effortless unloading. Both come with BearSaver animal-proof latches and are rodent- and rat-resistant so you can keep out critters both large and small.
BearSaver bear-resistant cart garage for municipalities
If you're a municipality searching for a bear-resistant cart garage that will work with your current residential automated cart pick-up system, then the RCE135F is for you. You can use the same equipment for commercial pick-up that you do for residential pick-up, eliminating the need for separate systems. This Bear-Resistant Cart Garage is perfect for use on city streets, parks, and municipal buildings and is available in 35-, 65-, and 95-gallon sizes. Poly carts are included and the cart garages are manufactured using high-grade materials and finishes including UV-resistant powder coat, stainless steel hinges, and galvannealed steel frames. No matter how harsh your environment is, these cart garages are made to last.
BearSaver outdoor trash/recycle cart garage for high capacity
Do you need a high-capacity solution for your location? Then check out the Animal Proof BearSaver 3 X 65-Gallon Cart Enclosure MD365. These heavy-duty cart garages hold three 65-gallon rolling poly carts for a total of 195-gallon capacity. The poly carts are included and the cart garages are manufactured using high-grade materials and finishes that provide exceptional resistance even in harsh environments.
BearSaver ADA-compliant, bear-resistant, and rodent-resistant cart garage
Finally, those looking for cart garages where accessibility is key can turn to the ADA-compliant and bear- and rodent-resistant CE135MB-CH. This cart garage combines a 35-gallon residential poly cart with an attractive bear-resistant enclosure that can be used on city streets, parks, and municipal buildings. It is also rat-proof and weather-proof, making it the perfect choice for urban environments. These cart garages are heavy-duty, ADA-approved products that use top-loading, pull-down chutes that are easy to operate and user-friendly. A special ADA handle is also included and locking hasps are available upon request. 
Contact BearSaver today
No matter what your needs may be, we have a BearSaver product that can help you. If you'd like to learn more, then please contact us at 800-851-3887 or sales@bearsaver.com. You can also follow us on Facebook and YouTube. Our team of customer service experts is standing by to answer your questions and help you make the right decision with confidence. Contact us today!
---
Share this post
---
---