All New Hands-Free Option Now Available for BearSaver Trash Enclosure
Posted by Securr Blogger on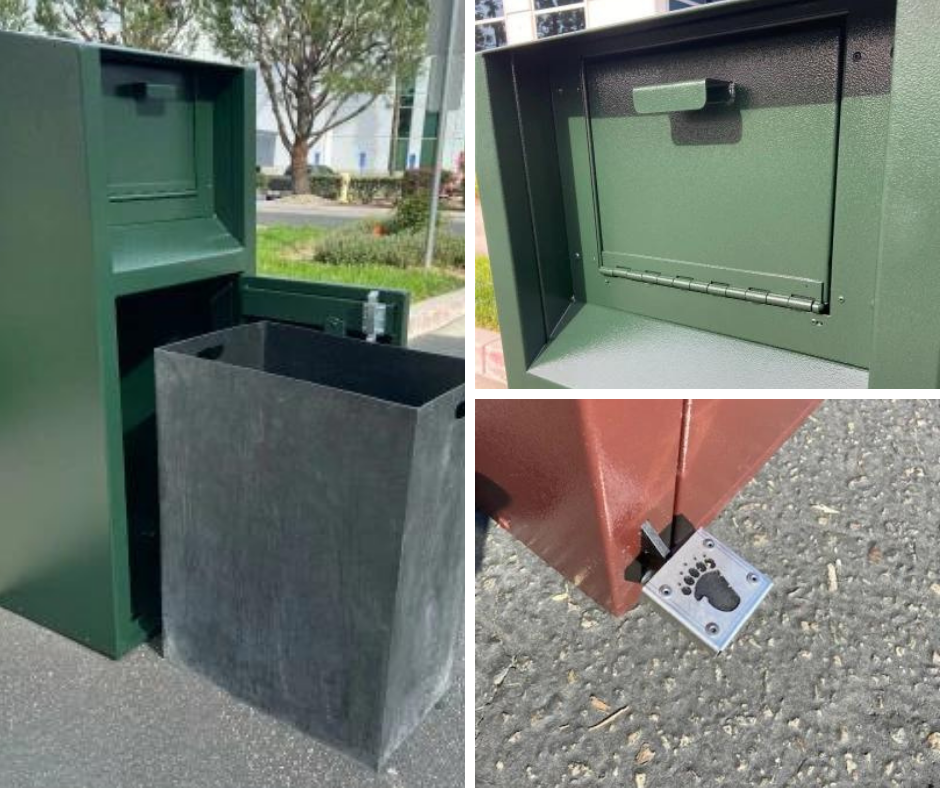 When you're shopping for a bear-proof trash enclosure, ease of use is essential. After all, if people can't easily dispose of their waste, then it will be harder to keep bears away from your property. That's why BearSaver has designed an all-new hands-free option for one of our most popular products. See how this bear-proof trash can make waste disposal a breeze!
CE Series single trash enclosure keeps bears and other critters away
Keeping bears away from trash is of critical importance in bear country. Not only does it keep you and other people safe, but it also keeps our neighborhood bears from getting hurt. That's why we've designed the CE Series bear-resistant trash enclosures. These products are both heavy-duty and ADA-compliant, making them an excellent choice for accessibility compliance. They come equipped with a top-loading pull-down chute that can be easily operated, even with a closed fist. And not only do they keep the bears out of your trash, but they also keep other critters like rodents away.
Optional hands-free foot pedal makes trash collection easy
Our CE Series single trash enclosure is now even easier to use with our new hands-free foot pedal option. All you need to do is push on the foot pedal and the loading chute opens. This makes our trash enclosures easy to use, clean, and best of all hands-free. If you'd like to see just how easy the CE Series single trash enclosure is to use, then click here to watch this short YouTube video.
Suitable even in extreme environments
BearSaver has designed a full line of bear-resistant products that are rugged and perfect for use in extreme environments such as humidity, fog, UV rays, chemicals, abrasion, and salt spray. They can stand up to harsh environmental conditions, large hungry animals like bears, and even vandalism. All hardware, handles, and striker plates are zinc-coated for excellent corrosion resistance. Hinges are manufactured from heavy-duty piano hinge material and the housing and doors are made with corrosion-resistant steel and finished with a textured powder coat.
Customize your trash enclosure to suit your needs
Our BearSaver CE Series trash enclosure can be customized in many ways to suit your needs. We have a wide range of colors to choose from, including custom colors. There are many labels to choose from for your enclosure, including Mixed Recycling, Trash, and Landfill. Plastic wood siding is available in both weathered redwood and cedar, and you can choose an optional zinc-rich primer and a stainless steel padlock hasp.
Learn more about bear behavior
Living in bear country means being Bear Aware. Learning more about bear behavior can help make your trash collection process easier and living amongst bears more enjoyable. BearSaver has created an extensive website at BearInfoSite.com to help you learn about bear behavior and get tips for managing trash collection when bears live nearby.
Contact BearSaver today
If you'd like to learn more about how BearSaver products can help you live responsibly in bear country, then contact us at 800-851-3887 or sales@bearsaver.com. You can also follow us on Facebook and YouTube. We look forward to helping you make the right decision with confidence to ensure you are satisfied with your BearSaver products and services!
---
Share this post
---
---