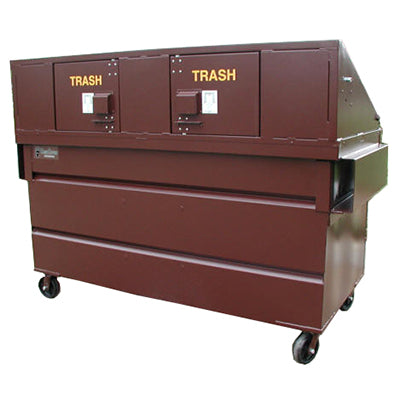 DISCONTINUED PRODUCT AND NO LONGER AVAILABLE - Heavy Duty Park Style Dumpsters
Item: #DSFL-2Y
---
IN-STOCK: Usually ships in 45-90 days. We have very limited stock so if you need less than 5 units, call to see if we have any available.
---
For orders more than 24 units please call 888-671-7066 for a discount
DISCONTINUED PRODUCT AND NO LONGER AVAILABLE - Heavy Duty Park Style Dumpsters
Bear Resistant, heavy duty Universally Accessible, commercial container.
Available in 2, 3, and 4 Yard!
Includes gravity latches that allow the dumpster lid to open when turned upside down for emptying. The driver will not have to get out of the truck to unlatch the lid.
Bear Proof Dumpsters
As the largest supplier of bear-resistant enclosures in North America, our next issue to address was getting bear resistant dumpsters to market. After lots of research and testing they're finally here!
Available in front load 2, 3 and 4 yard sizes, the new BearSaver bear-resistant dumpster is here and ready for service. With front loading, swing-open doors, getting trash or recyclables inside is easy and clean. Dumping is made easy by gravity latches releasing the unloading lid during the dumping process.
Clip-down lids are also available as an option.
NOTE: THIS DESIGN IS PATENT PROTECTED UNDER U.S. D577,171 S. THE POCKET LATCH IS PATENTED UNDER U.S. 9,567,775 B2 AND 7,775,564 B2.
MECHANICAL SPECIFICATIONS
All dumpsters have zinc coated hardware. The interiors are coated with automotive underseal and exteriors are powder coated. Heavy duty construction with 12 gauge body and 10 gauge pockets.
---
Specifications
Product Name Heavy Duty Park Style Dumpsters
Manufacturer Name Bearsaver
Item # DSFL-2Y, 3Y or 4Y
Shipped From Ontario, California 91761
Warranty 1 year
---